Are you buying the wrong disposable glove at the right price?
Choosing the Perfect Fit: Don't Settle for Less, Even at a Lower Price.
As a vital line of defense against harmful substances and diseases, disposable gloves are frequently misunderstood. With an overwhelming variety to choose from, customers are often seeking the lowest price on the wrong glove!
When shopping for disposable gloves, take time exploring the options in the market. Don't rush into a purchase just because it matches your budget; make sure it's the right glove for your project.
For over 30 years, LabSource has helped customers navigate the maze of materials, grades, colors, strength, fit, comfort, dexterity, brands, etc. Use the guide below to find the right glove at the right price.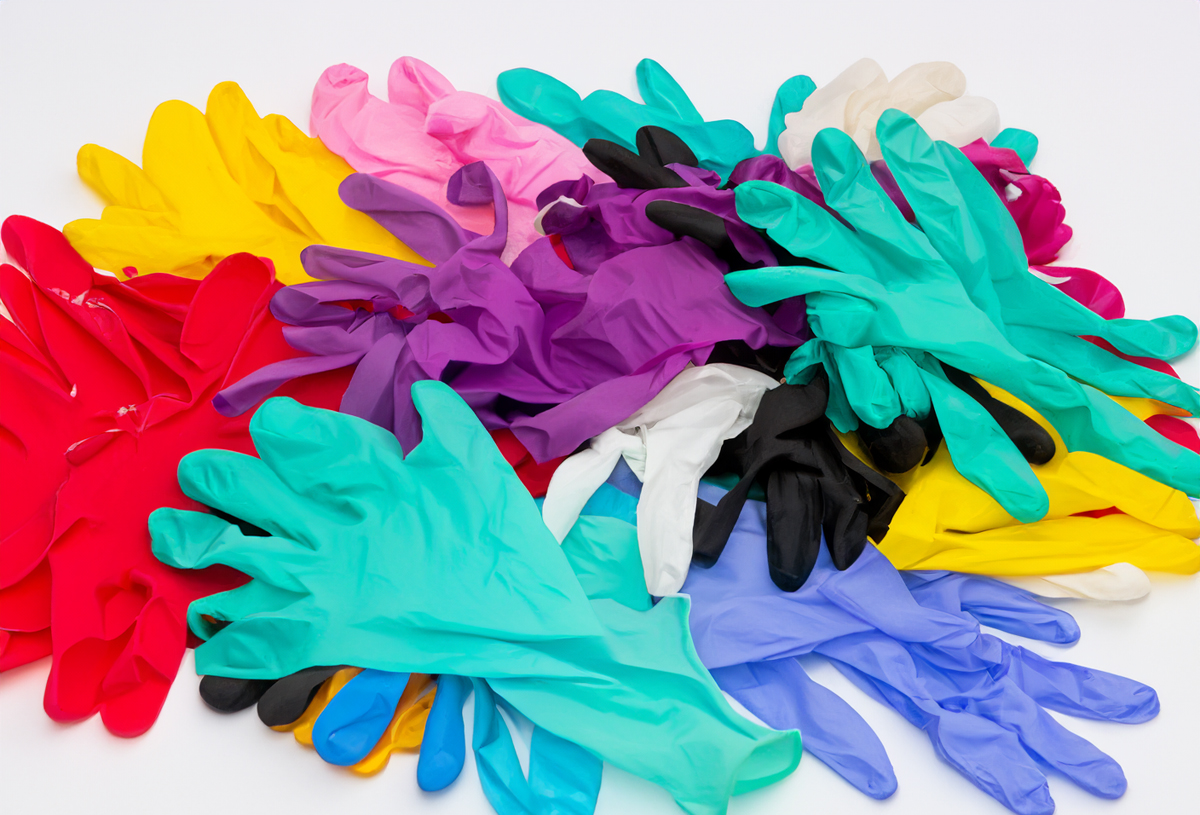 Primary Glove Materials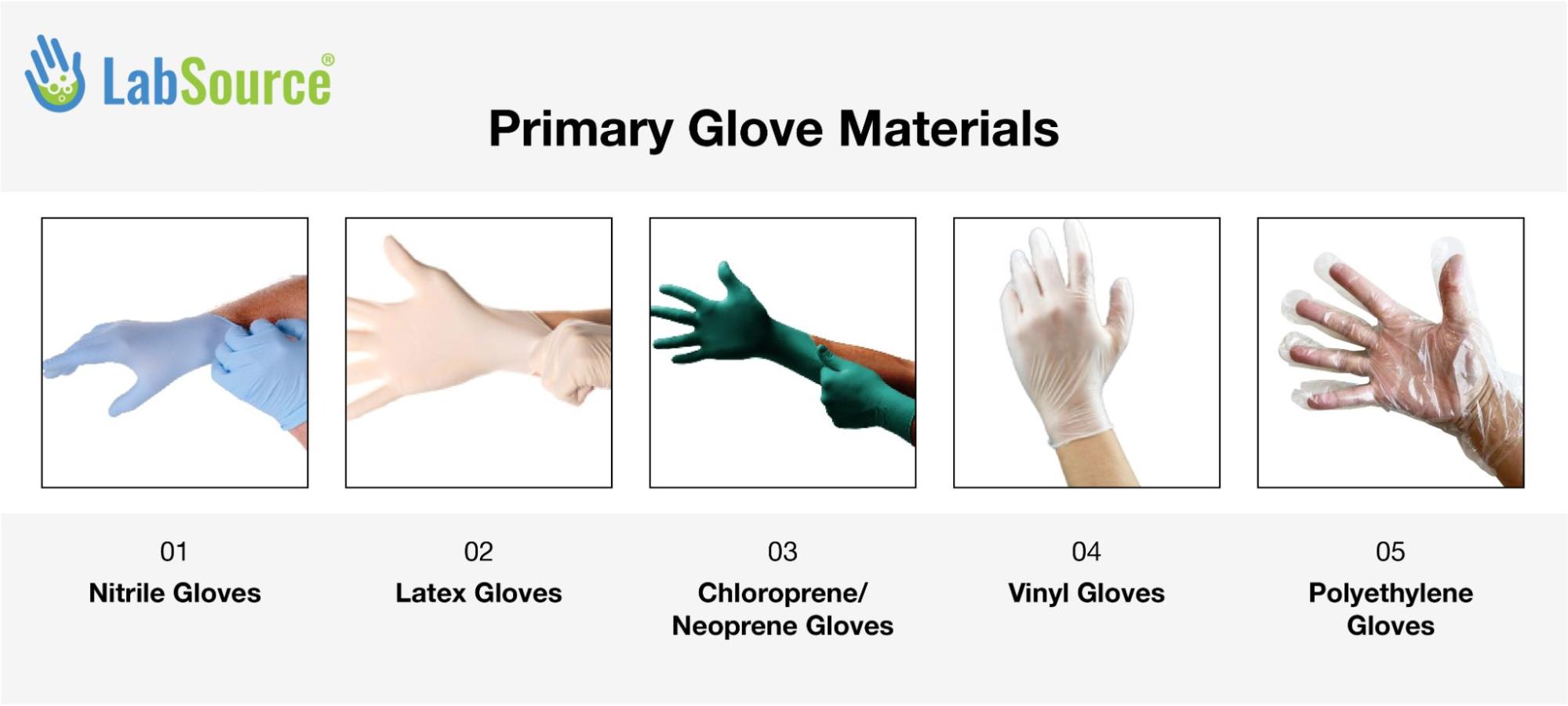 Nitrile Gloves
Synthetic material made from butadiene rubber, which is a co-polymer of butadiene and acrylo-nitrile
Regarded as the highest quality replacement for latex
Common colors are blue (most popular), black, white, orange, pink, green, and two-tone
When is Nitrile the best choice?
Nitrile is the most cost-effective, versatile glove for general lab and industrial applications. While not as elastic as latex, fit and dexterity are continuously improving along with superb resistance to petroleum based oils and fuels. Also provides excellent resistance to puncture, and is easier to spot tears prior to handling dangerous materials. Also tolerates higher temps than latex and prevents latex induced allergies.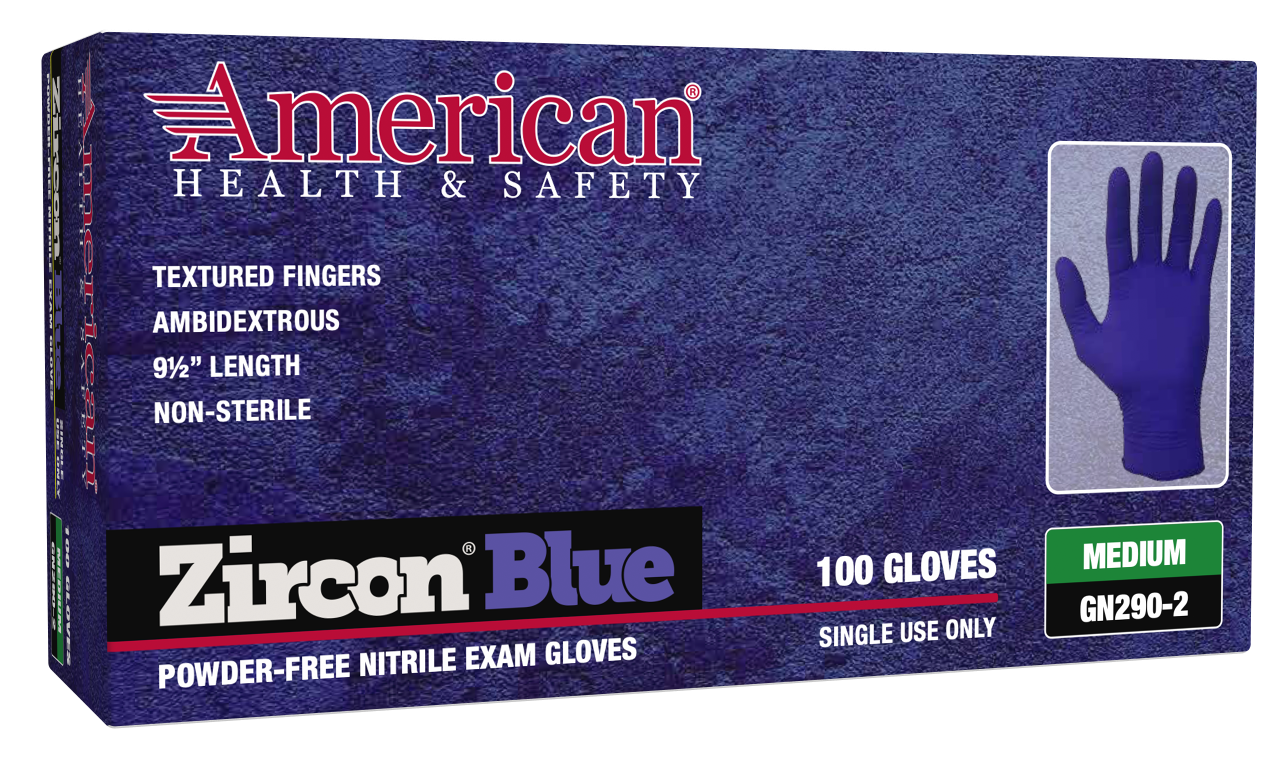 View our Best-Selling Nitrile Gloves
Nitrile gloves are an excellent choice for customers seeking latex-free superior durability with minimal allergies, and a comfortable fit for various applications.
Latex Gloves
Derived from tree sap (natural latex)
Natural rubber is processed with added chemicals to transform it into a solid glove
Colors are usually beige or blue for high-risk uses
Allergies: Some people are allergic to latex proteins
Chlorination can reduce proteins, with double chlorination options available at a higher cost
When is Latex the best choice?
Latex is the ideal choice for medical or precision applications that require a high level of form-fitting, tactile sensitivity, and effective protection against bloodborne pathogens. If you have concerns about allergies or need protection against harsh chemicals, consider nitrile gloves as an alternative.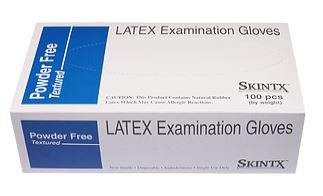 View our Best-Selling Latex Gloves
Latex gloves are a smart choice due to their form-fitting characteristics, elasticity, and effective protection for various tasks.
Neoprene Gloves
Made from synthetic materials, no latex allergies to worry about
Latex comfort with nitrile strength
Mostly green in color, but now available in black, blue, and pink
When is Neoprene the best option?
Neoprene gloves offer the same rigorous fit and dexterity as latex for highly precise applications, including medical procedures, but with reduced allergy risks. They also withstand many acids, peroxides, toxic chemicals, and corrosive materials. However, neoprene does not hold up well against certain aromatic hydrocarbons and comes at a higher cost compared to nitrile and latex.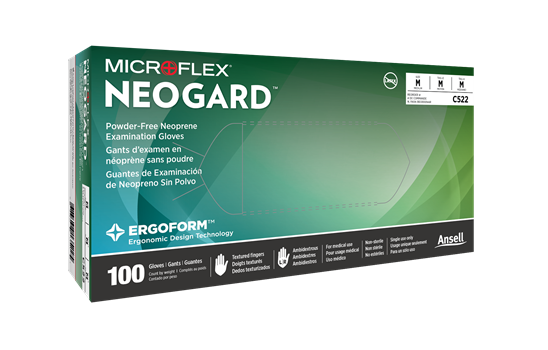 View our Best-Selling Neoprene Gloves
Neoprene gloves are highly resistant to chemicals, oils, and a wide array of corrosive substances, making them an excellent choice for various industrial and laboratory applications.
Vinyl Gloves
Also known as PVC (poly vinyl chloride)
Petroleum based product, synthetic materials
Inexpensive option for handling non-hazardous materials
Available in clear and blue
When are Vinyl Gloves the best option?
Cost-effective gloves suitable for basic food and industrial applications where form-fitting is not necessary, such as handling oils, fats, resins, and greases. They offer good resistance to abrasions, flexibility in cold temperatures, anti-static properties, and pose no latex allergy concerns. However, they are not suitable for applications that demand protection against hazardous materials.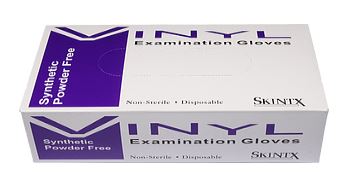 View our Best-Selling Vinyl Gloves
Vinyl gloves are valued for their cost-effectiveness, ease of wearing, and latex-free composition, making them a practical choice for a wide range of applications.
Polyethylene Gloves
Made from plastic resins
Comprised of two sheets of polyethylene film and heat seal together
Suitable for light sanitation when frequent glove changes are required (i.e. making sandwiches)
Inferior dexterity and protection compared to other materials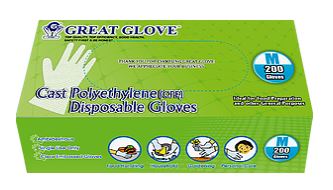 View our Best-Selling Polyethylene Gloves
Polyethylene gloves are disposable, affordable and offer lightweight comfort. They are a cost-effective choice for tasks that require frequent glove changes and are suitable for short-term application, such as food handling.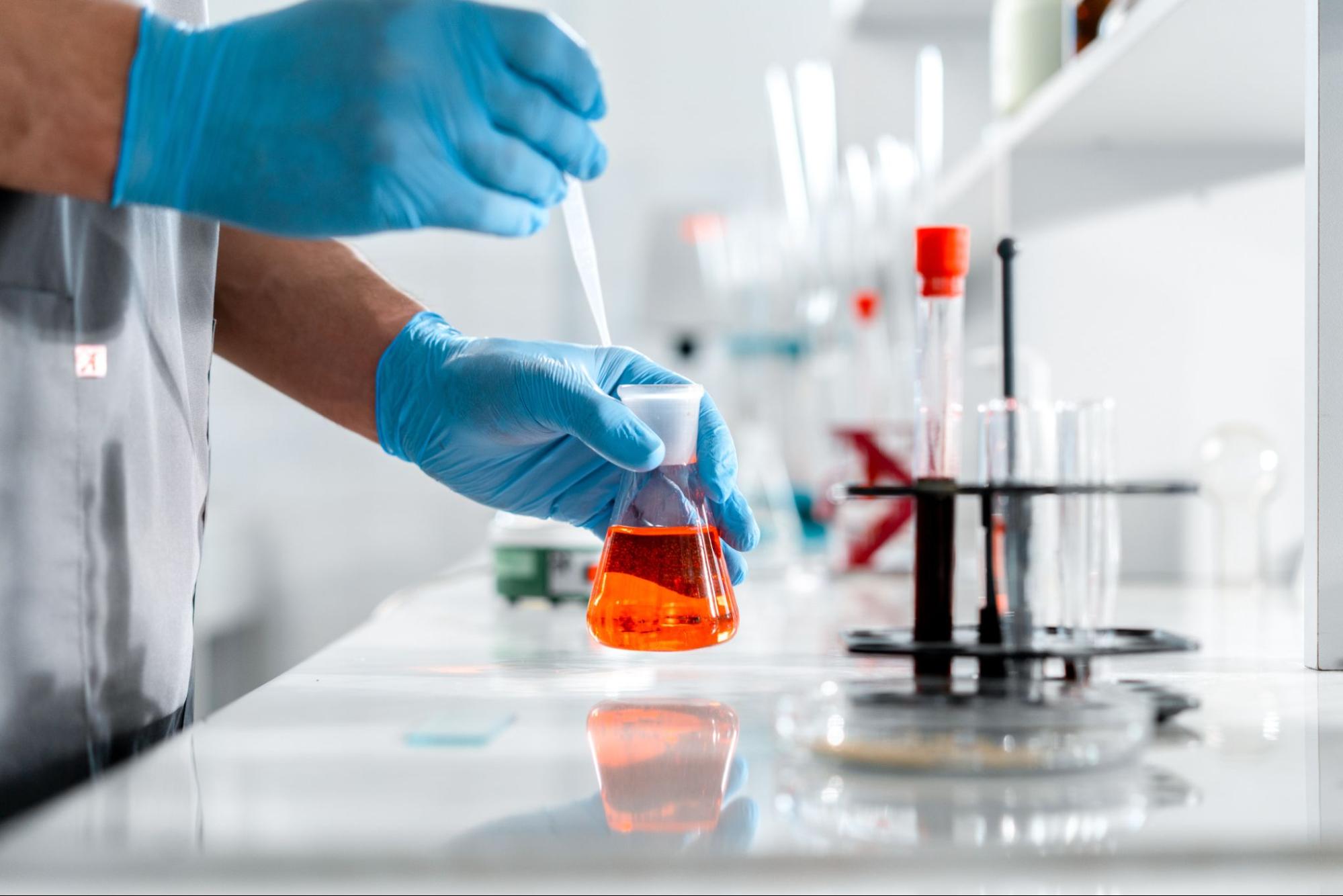 Glove Grades
1. Medical Grade (Exam):
Medical grade gloves are precision-made to meet strict healthcare standards, providing reliable barrier protection and dexterity for healthcare and lab professionals in infection control and medical procedures.
Minimum AQL is 2.5- see Terminology below for more information.
For people in contact with blood borne pathogens (blood, urine, saliva, etc.)
Used at doctors' offices, hospitals, laboratories, fire EMS, and police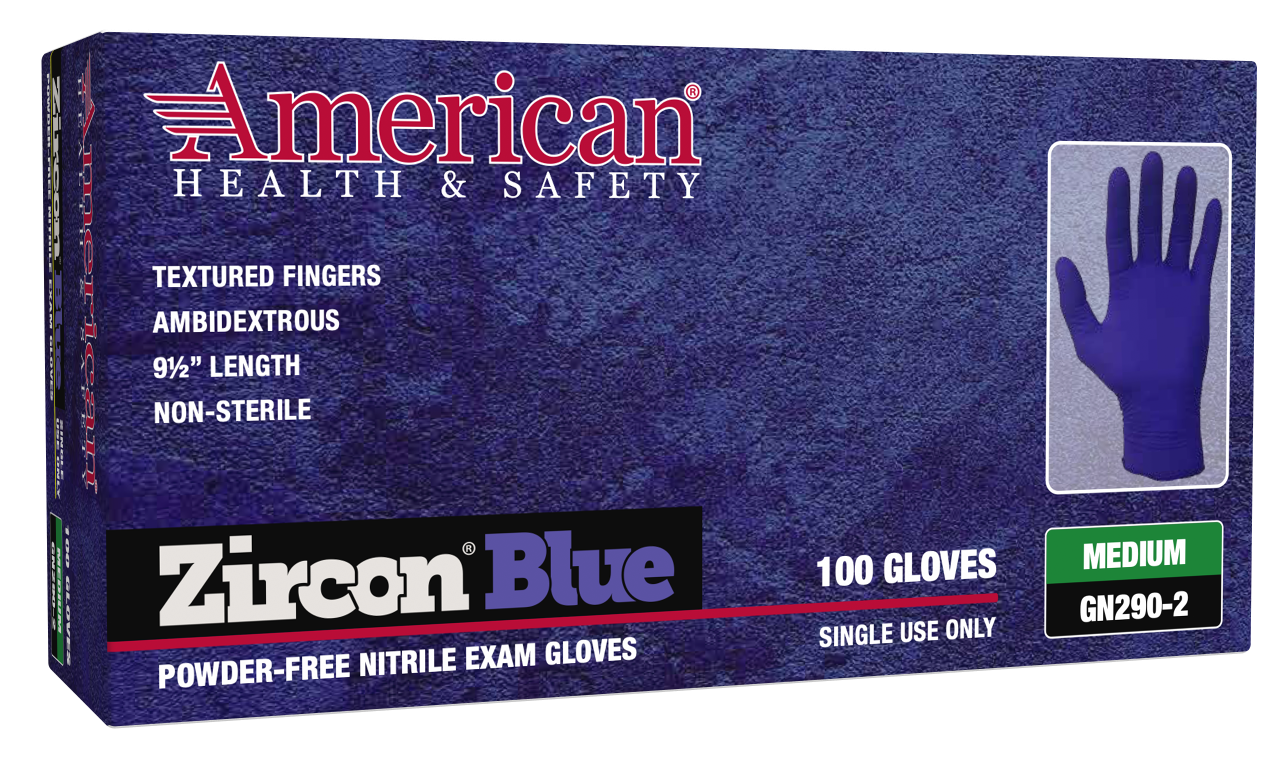 View our Best-Selling Exam Grade Gloves
2. Non-Medical Grade (Industrial):
Industrial grade gloves are designed for use in various non-medical applications, offering durable hand protection in industrial and commercial settings.
B grade gloves have a AQL rating greater than 2.5
Popular at industrial, food service, and some lab facilities where there are no blood borne pathogen issues
Minimum AQL is around 4.5- see Terminology below for more information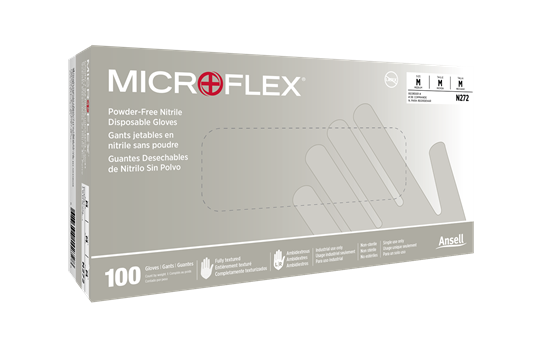 View our Best-Selling Industrial Gloves
Fully-textured Nitrile gloves
3. FDA Approved:
For contact with food and beverages, meeting standards of FDA Title 21 CFR Part 177.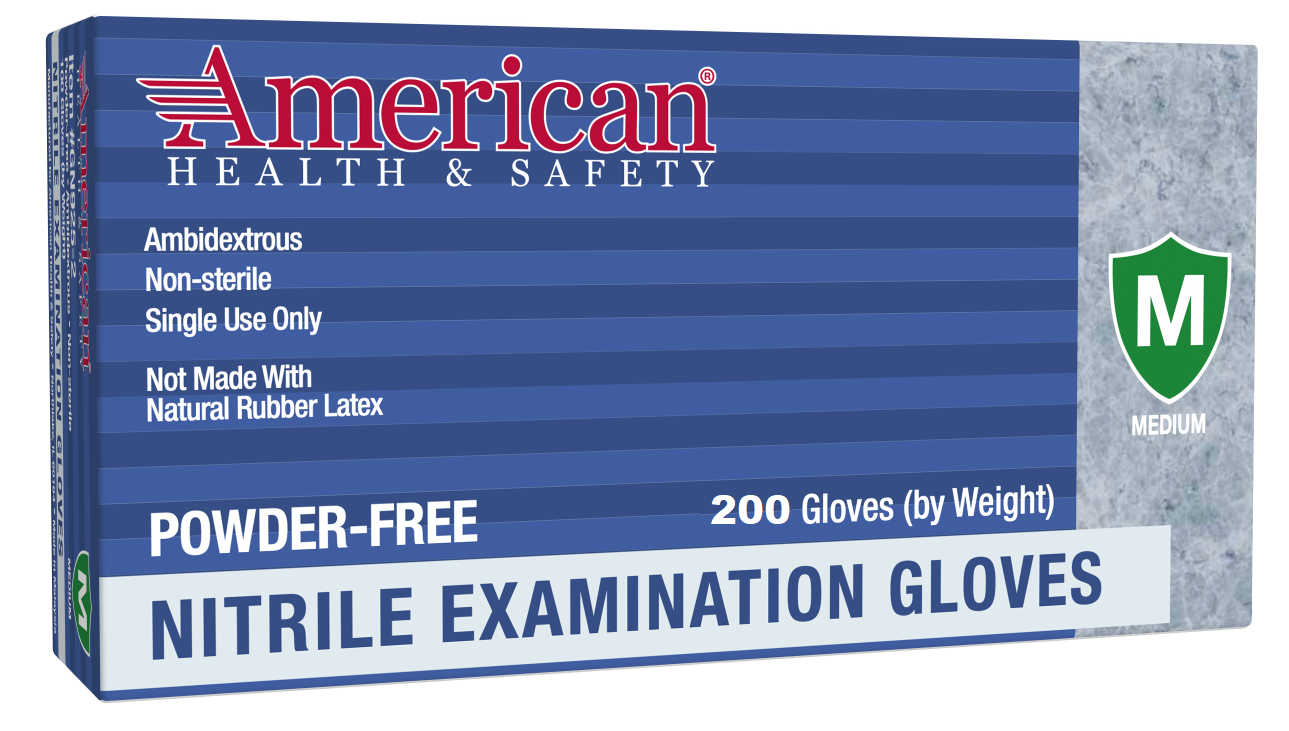 View our Best-Selling FDA Approved Gloves
4. Fentanyl Approved:
Tested by independent labs to ensure no breakthrough using ASTM 6978-19 (Standard within the 240 minute test for permeation). UV/VIS Absorption Spectrometry is used to measure absorption of Fentanyl.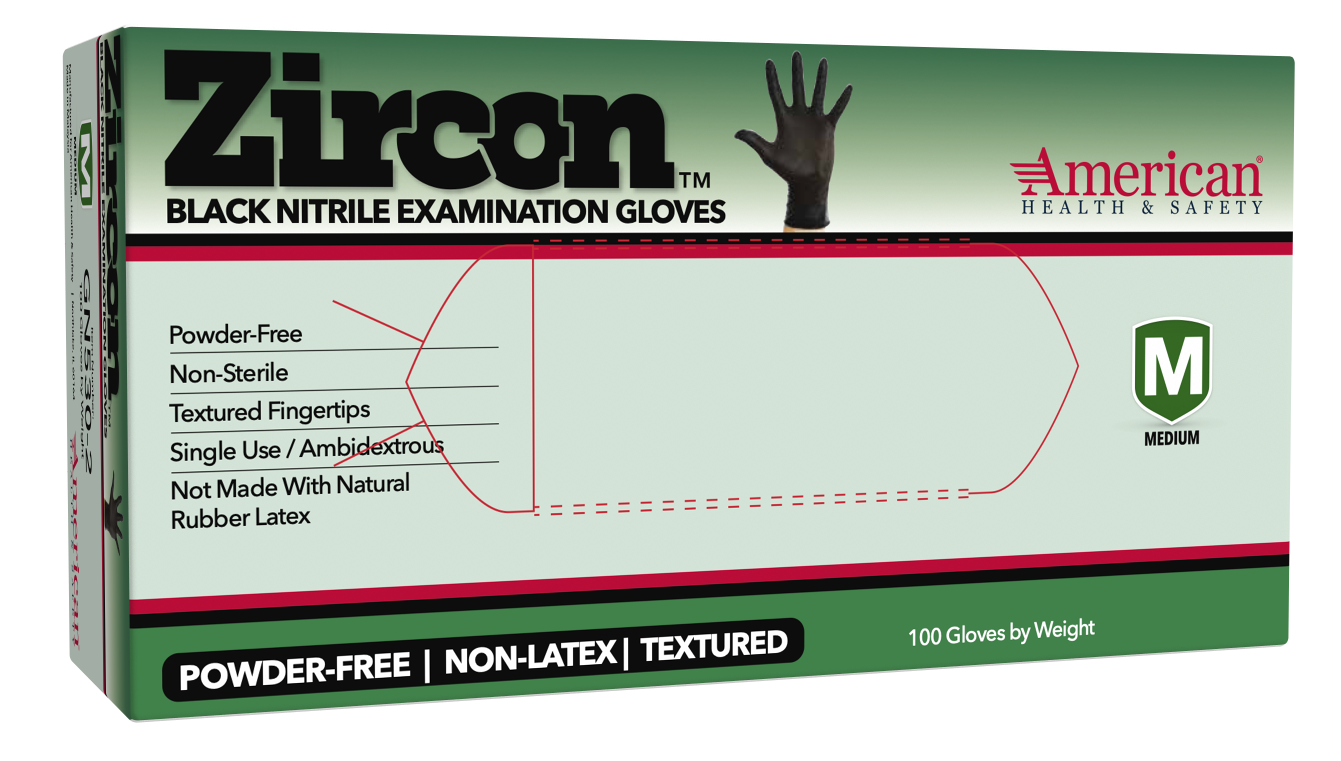 View our Best-Selling Gloves for Fentanyl Safety
5. Chemo Gloves:
Medical gloves approved for chemotherapy. Approved gloves must be tested with nine chemotherapy drugs as required in the American Society for Testing and Materials (ASTM) Standard D6978-05 (Standard Practice for Assessment of Resistance of Medical Gloves to Permeation by Chemotherapy Glove).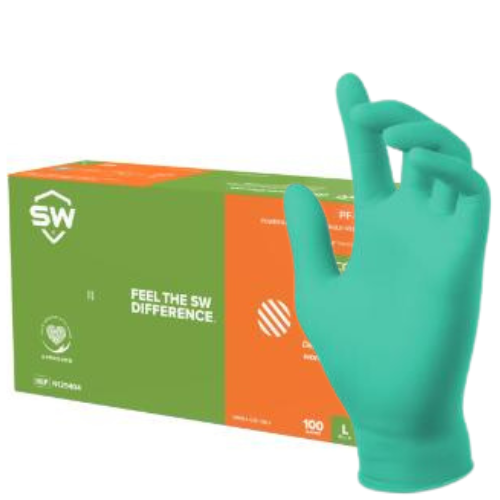 View our Best-Selling Gloves for Chemotherapy
6. Surgical Gloves:
Surgical - Sterile, Minimum AQL of 1.5 and approved for surgical use.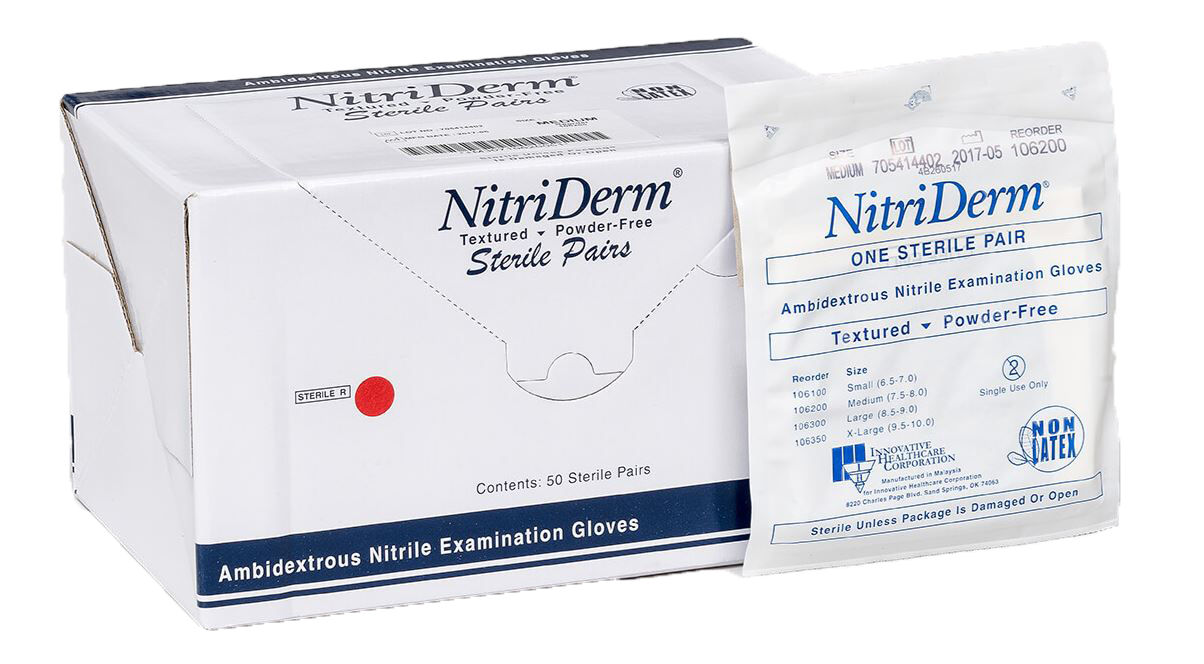 View our Best-Selling Surgical Gloves
Sizes & Packaging
Available in up to 7 sizes including XS, S, M, L, XL, XXL, XXXL
Cuff is measured from tip of middle finger to the end of cuff. 9-9.5" is Standard Cuff and 11-12" is Long Cuff
Boxes generally contain 50 to 300 ambidextrous gloves. Standard is 100 gloves per box and 10 boxes per case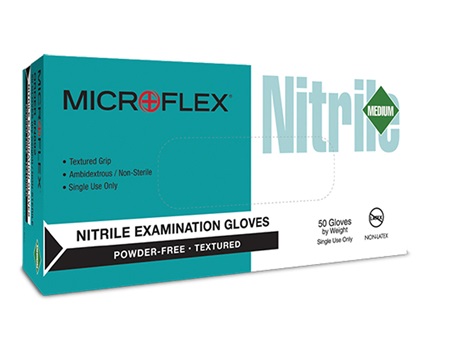 View our Best-Selling Long-Cuff Gloves
Glove Sizing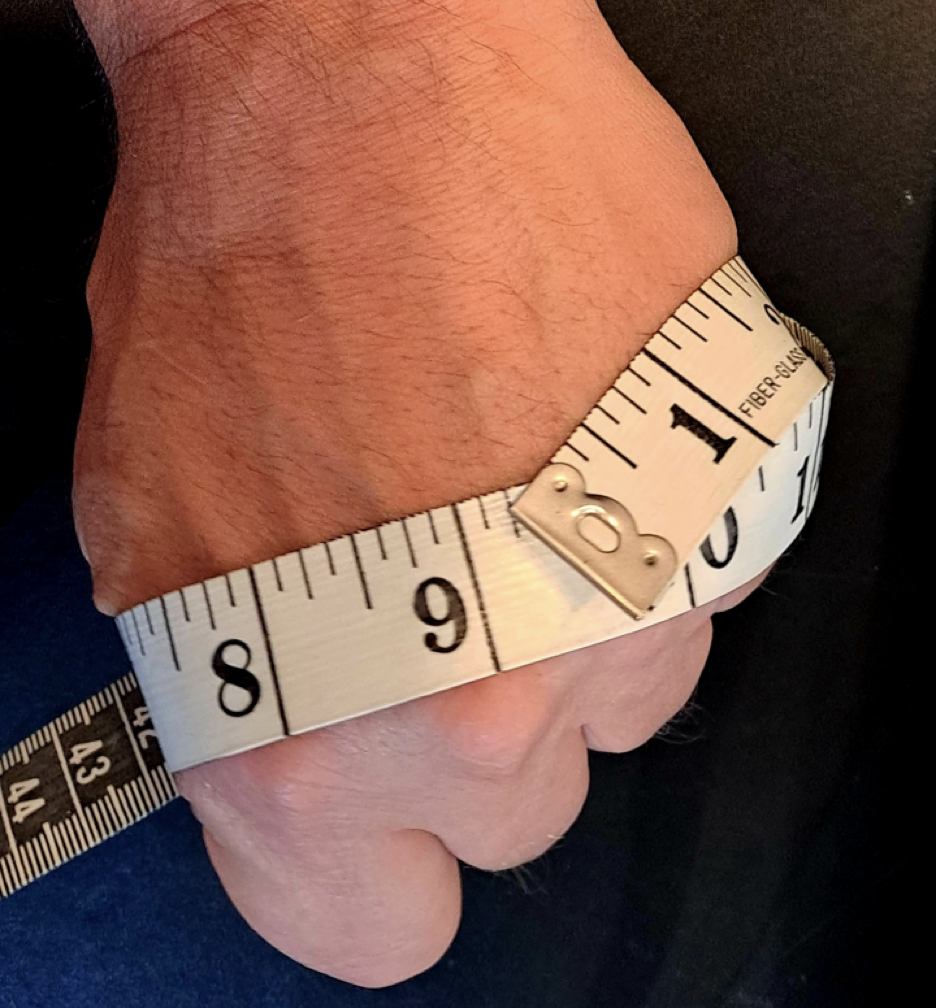 Wrap a measuring tape around the widest part of your dominant hand, just below the knuckle and excluding your thumb
5.5-6 inches = Extra Small
6.5-7 inches = Small
7.5-8 inches = Medium
8.5-9 inches = Large
9.5-10 inches = Extra Large
10.5-11 inches = Double Extra Large
Glove Terminology
AQL level: Acceptable Quality Level

Random water testing to determine pinhole defect rate
The lower the AQL level, the better
2.5 is the minimum AQL for medical gloves, 4.5 for industrial gloves

MIL: unit of measure for the thickness of gloves

1/1000th of an inch
3 measurements: finger, palm, and cuff

Glove Weight: Since thickness can vary throughout the glove, weight can be a more reliable indicator of the amount of material (m.g.)
Plasticizers: Chemical components added to nitrile or vinyl gloves to improve elongation and overall fit
Powder Free: Powder removed through a chemical washing process called chlorination process. Limited Powdered Latex Gloves are available for easier donning.
Textured Finish: Give you a better grip and can be found on fingers (usually more textured) or whole glove. Good for wet applications.
Diamond Textured: Gloves with raised diamond shaped texture throughout outside of the glove provide 60% more surface area to channel away liquids for a firmer grip.
Glove Color: You may choose to color code by material to quickly identify latex versus nitrile or by department to avoid contamination
Donning: The act of putting on a glove. Nitrile gloves have a lower resistance to friction than latex gloves making them easier to don and remove. In addition, finishes are added during the manufacturing process to improve donning.
Glove Strength
Tensile Strength:

The amount of force in pounds per square inch needed to stretch a medical glove until the breaking point
The higher the number, the better the glove is
Measured in MPA's
Highest is latex, chloroprene, nitrile, followed by vinyls

Elongation: unit of measure for the thickness of gloves

How far the glove stretches before it breaks (e.g. a 1 inch sample that stretches 7 inches before it breaks has an elongation of 600%)
The higher the number, the better with latex having the highest elongation followed by nitrile, chloroprene and then vinyl
Applications/Industries
EMS and Fire:

High risk – usually thicker, long-cuff, Fentanyl Approved, NFPA and CHEMO approved, Exam/Medical Grade
Prefer 6, 7, 8, and 15 mil thick gloves
Nitrile or Latex

Jails, Police, and Detention

Exam/Medical Grade, Fentanyl Approved
Primarily use nitrile, all thicknesses
Preference for Black color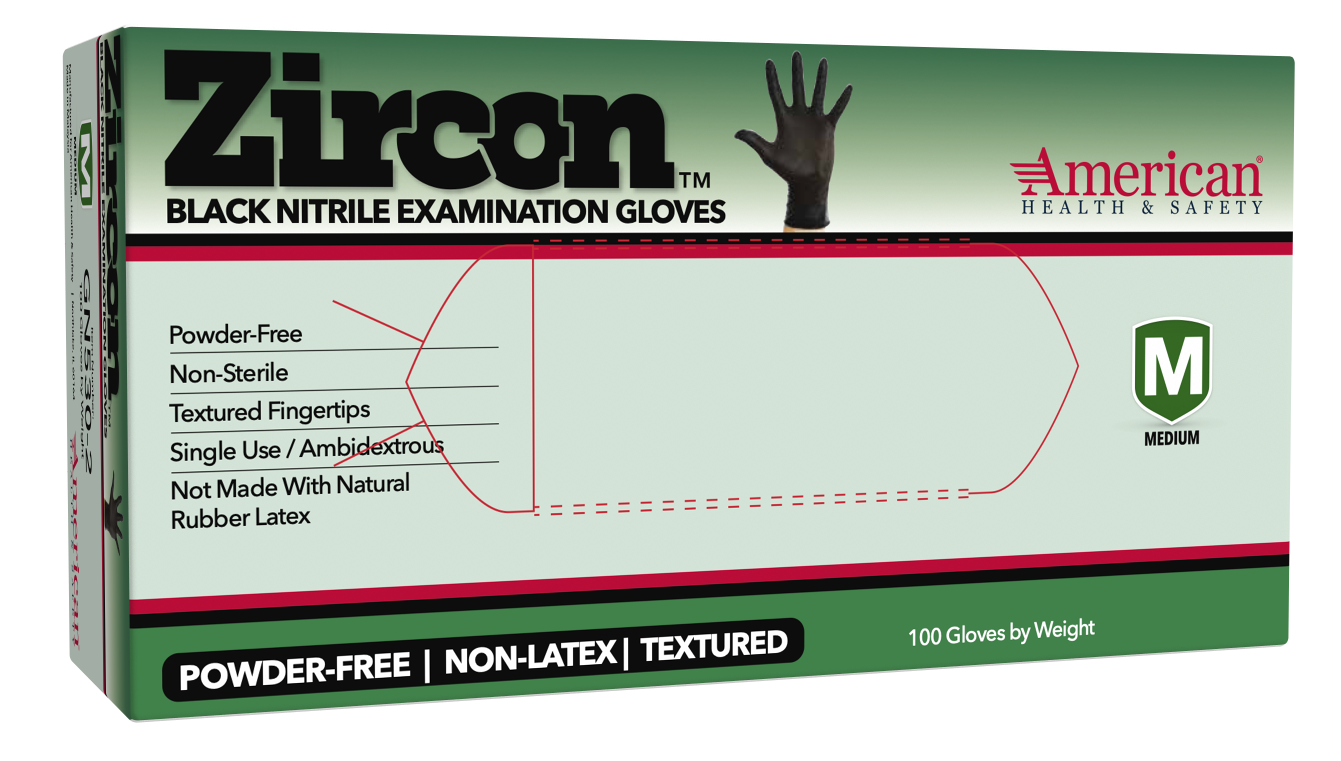 Most popular for EMS, Fire and Law Enforcement
Labs and Doctors:

Exam Grade
Prefer 6, 7, 8, and 15 mil thick gloves
Thinner gloves for dexterity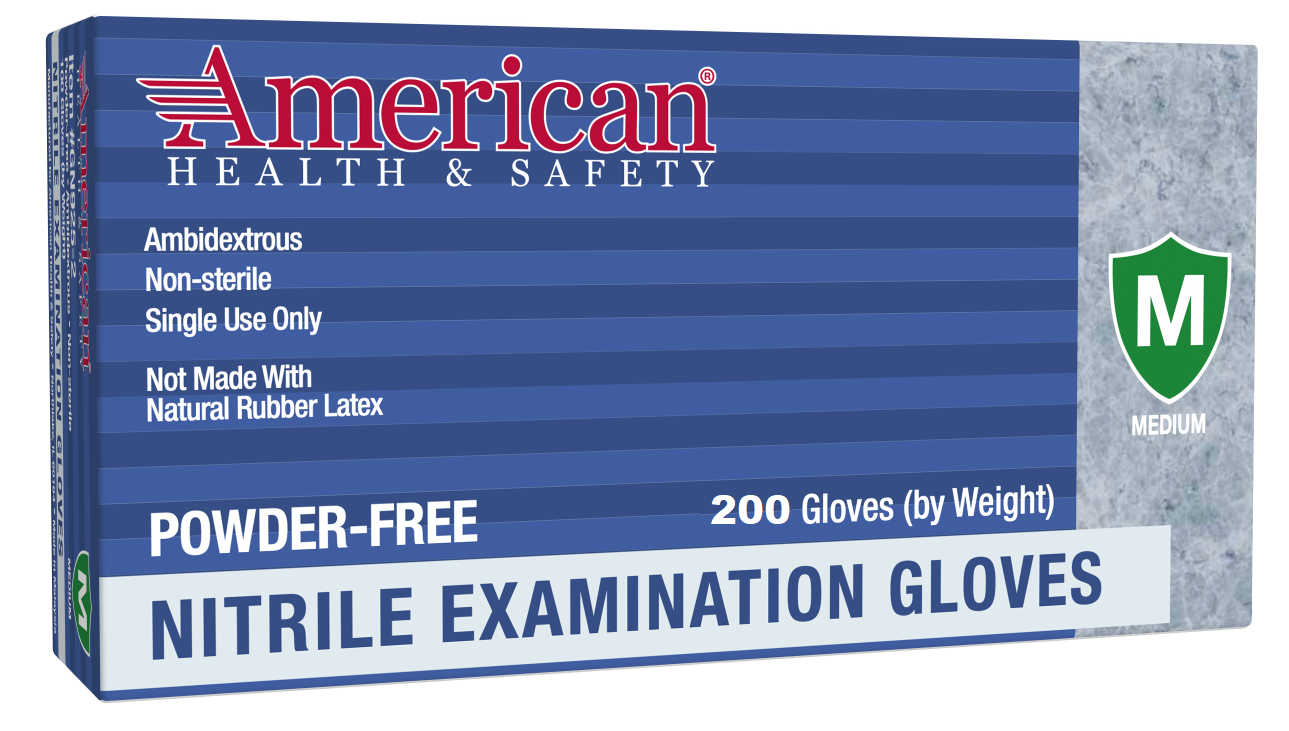 Most popular for General Lab & Medical Applications
Food Industry

Nitrile, Polyethylene, Vinyl
FDA Approved
Preference for 4-5 mil blue nitrile or clear and blue vinyl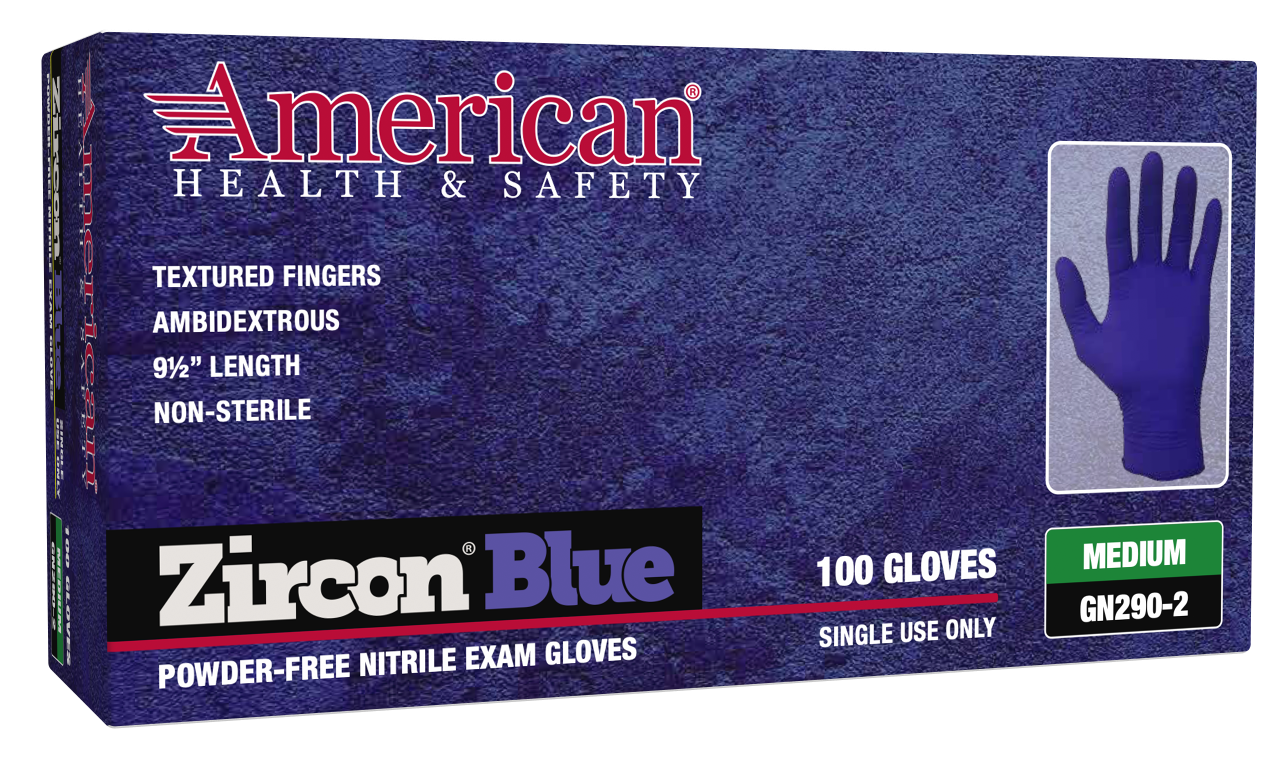 Most popular Food Industry Gloves
According to the Occupational Safety & Health Administration (OSHA), 70.9% percent of hand and arm injuries could have been prevented with personal protective equipment, specifically safety gloves. Ironically, however, 70% of workers don't wear hand protection.
About LabSource
Over 3,000,000,000 disposable gloves sold since LabSource's founding in 1989! Trustworthy, expert advice plus stock on over 80 disposable gloves including the value-leading American Health and Safety Brand.